A house that has many rooms is sometimes a difficult part when determining the right decoration to use. Every room needs a design that can adjust its use so that it can function properly.
If it doesn't live up to its function, it will look pointless and unattractive. You can use laminate sheets as decorations for your rooms to make good use of the space.
You can also use laminate sheets for various surfaces including your home furniture.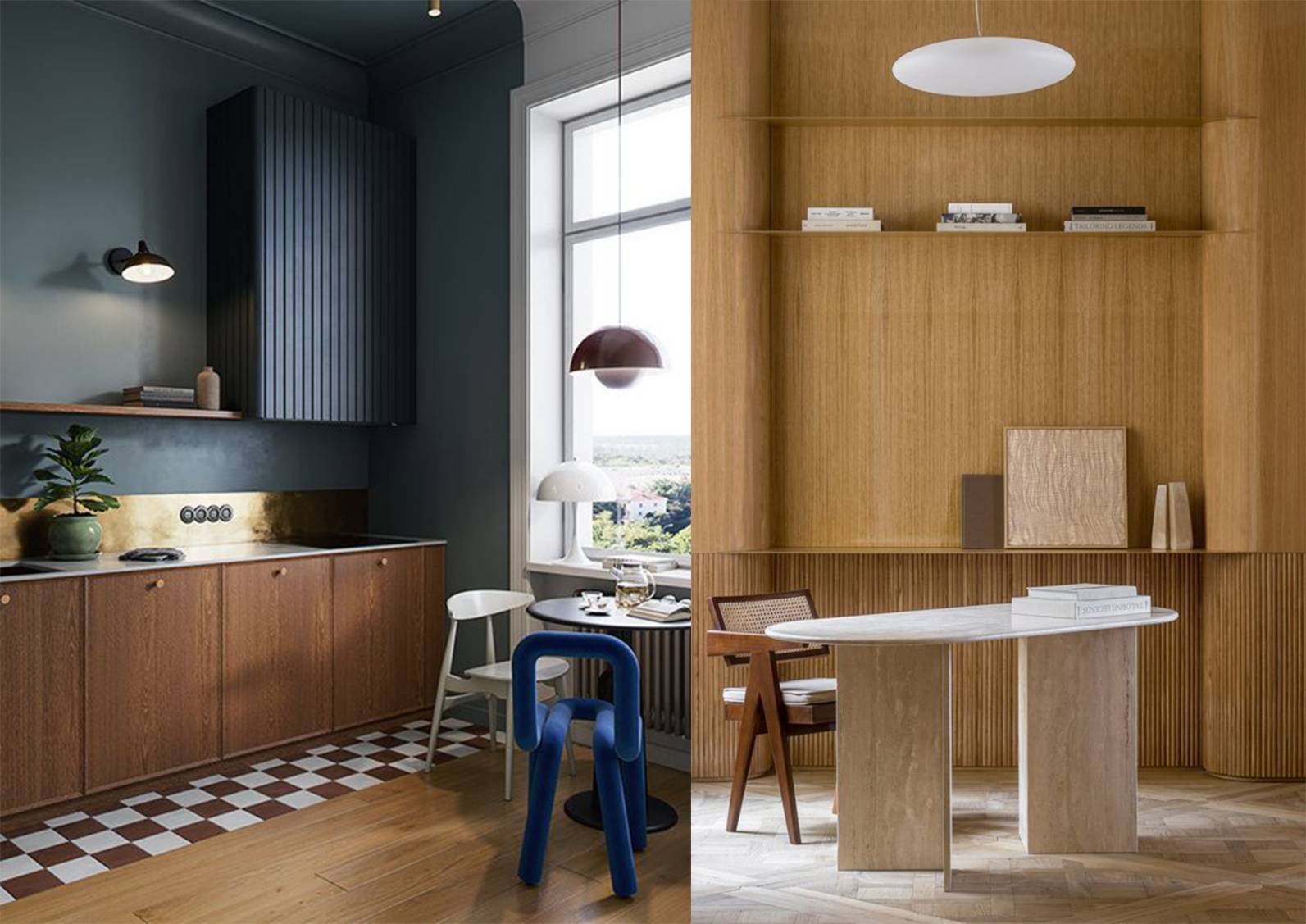 The use of laminate sheets is very beneficial for various room surfaces. Therefore, laminate sheets can be a great choice for wall or furniture designs with the same color theme.
The appearance of your room design is the most important part because it gives a prominent impression of the appearance of the house.
Even though giving the best appearance requires a lot of time and money, it must be something that must be considered carefully.
However, using decorative laminate sheets will be a solution to the beauty of the room instantly and affordably.
Get Stylish Your Room with Laminate Sheets
With these laminated stickers, you can easily style up the usual wall look. The appearance of various rooms will look more different and of course it will be prettier.
This laminate sheet is perfect for changing the look even though it's affordable because the pattern it has is almost identical to the original pattern.
Using this wall decoration also provides benefits such as protecting various surfaces that are easily bumped and deformed. Laminate sheets will help you change the appearance of dirty or damaged surfaces to look new again without having to replace them.
The use of this wall idea is perfect for various rooms in your home with various styles. You can also customize it based on your needs. Let's find inspiration for your home design with laminate sheets.
Solid Colors Theme for Your Bedroom
Solid colors for the bedroom will give a beautiful and bold impression. The choice of solid colors is very diverse and looks real, making your bedroom more colorful and fun.
This look is perfect for those of you who want to play with quirky colors like yellow or pink. But you can also use calm navy or gray colors.
This look will also make your room look more modern with a more striking style. Solid colors with a one-color appearance make the room look wider and also give the impression that the room looks clean.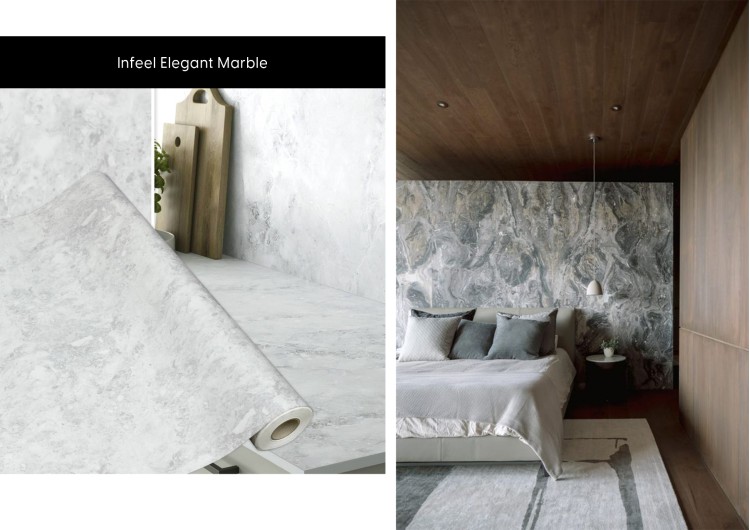 Luxury Marble Theme for Your Living Room
The appearance of a luxurious living room is what many people want. For example by installing marble which is always the center of attention because it looks glamorous.
The appearance of a luxurious living room is what many people want. For example by installing marble which is always the center of attention because it looks glamorous. However, using original marble designs will take a lot of effort and money, especially with special care.
Therefore, you can transform your living room by using laminate sheets with a marble pattern. Installation can be done easily without having to worry. The style of using these wall decor ideas is also very realistic and certainly very similar to real marble.
The use of this marble design is not only for your living room wall, but also for your furniture such as your cupboard or door. Easy maintenance will also be your advantage for using this marble wallpaper theme.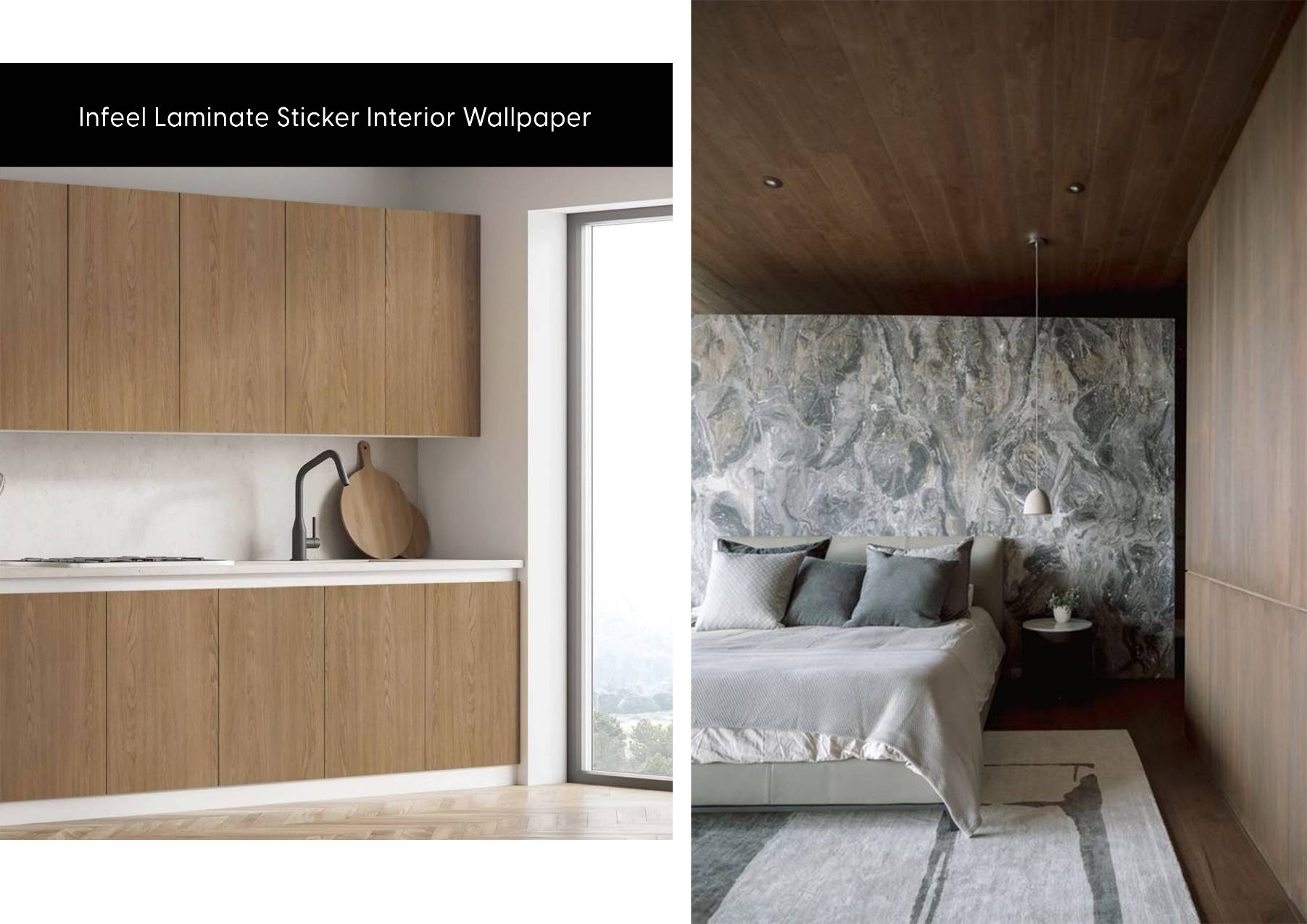 The Warmth of Wood for Your Kitchen
Wood-themed wallpaper for the kitchen can be an option for an aesthetic impression. This theme gives us the spirit to go through the day because in general most of people's activities are done in the kitchen.
Especially for housewives almost every time in the kitchen. An aesthetic appearance with warmth will provide a comfortable feeling when cooking.
The appearance of this wooden wallpaper theme for the kitchen is also very suitable for minimalist kitchen equipment, so it has the same colors and patterns.
Laminated wood also gives the appearance of a realistic wood wallpaper pattern to add a sense of naturalness to your kitchen.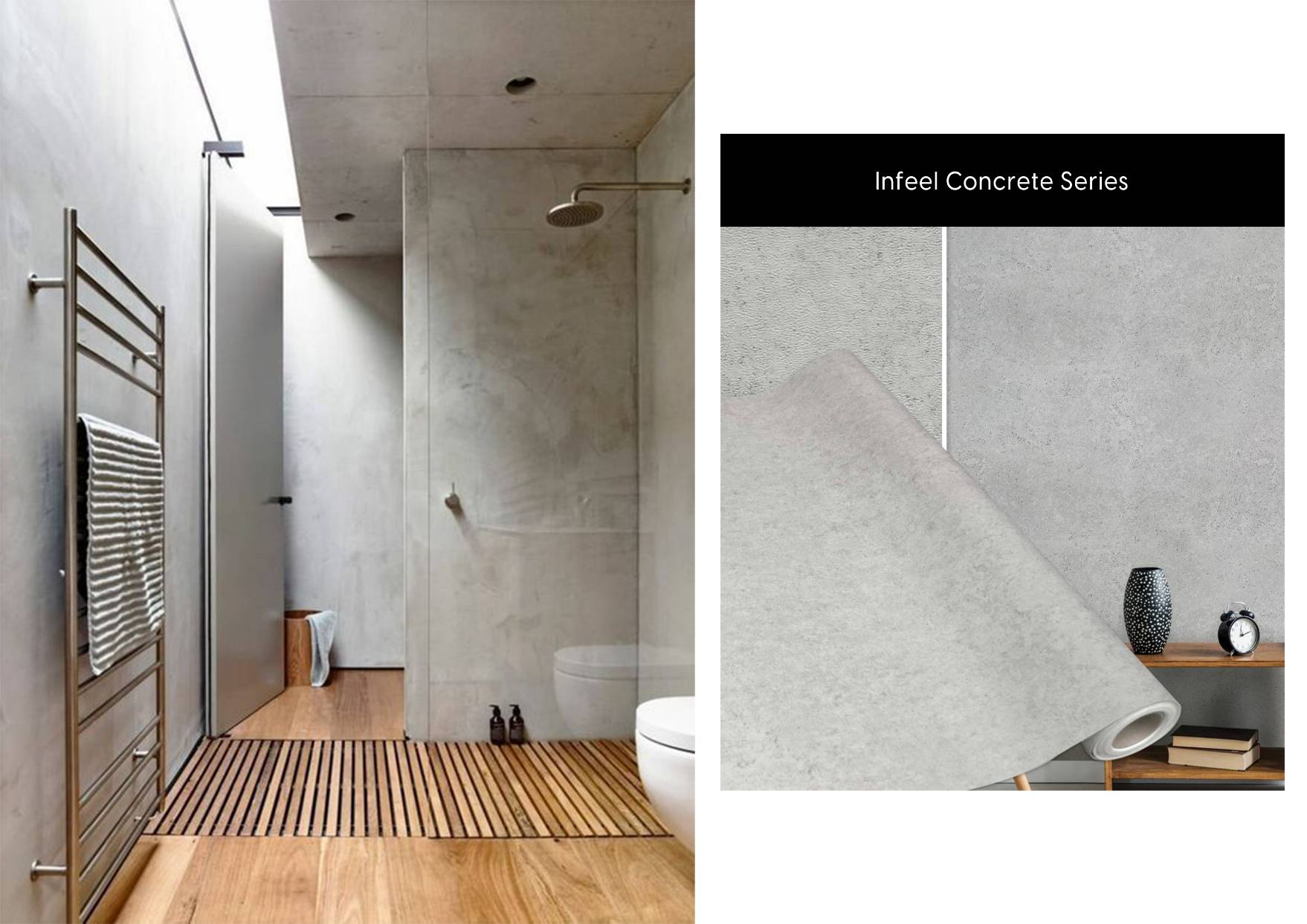 Concrete Theme for Your Bathroom
The bathroom always gives a refreshing feel because it is always bound by the element of water. One of the themes that you can try to add a calming impression to your bathroom is concrete wall wallpaper.
The Concrete theme has a cool impression with soft gray tones to fill your bathroom space. You can decorate a bathroom with this design with a touch of plants in the corner of the room to add a fresh and natural impression.
The atmosphere with the concrete background wallpaper also gives a minimalist impression to your bathroom.


Find Laminate Sheets with the Best Materials in Singapore

Sticker laminate sheets are now trendy wall decorations in Singapore. One of the reasons why this decoration is trendy is its practicality, so we don't need to rush to immediately replace old furniture with new ones or paint our walls.
You can use laminate sheets to make your home look prettier than before and look newer. Dekorea provides a variety of pattern designs for your wall decorations with their respective themes.
Apart from giving beauty to your room, laminate sheets also have many advantages such as making it easier for you to clean the walls of your house which are easily dirt.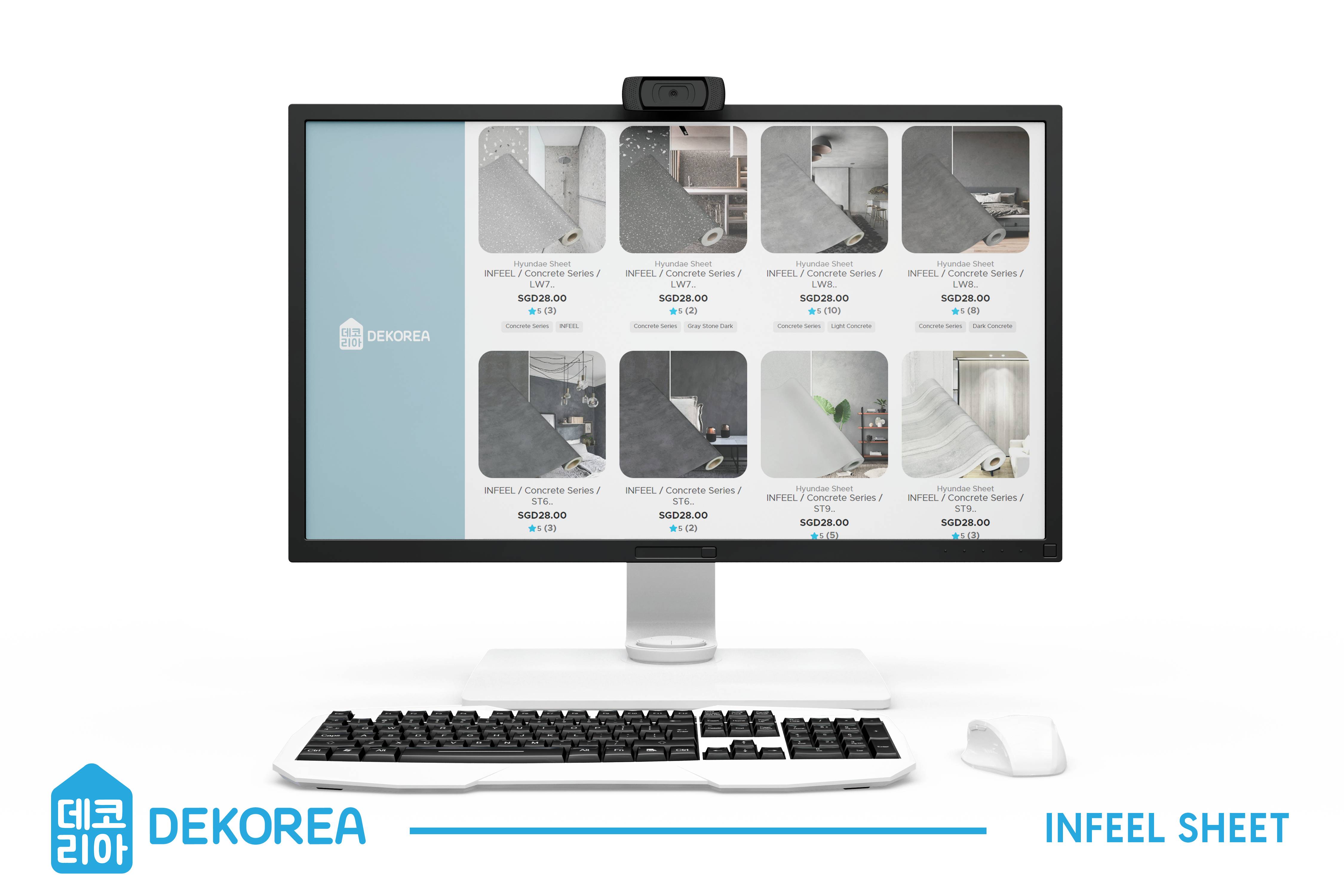 The installation is also very easy with the materials you have, you can easily replace various designs without damaging the surface to which they are attached.
Laminate sheets are also made of sturdy material and are certainly durable for long use.
You can immediately visit the Dekorea website to get information for the best variety of pattern designs for your room inspiration and also contact us for information.