Vinyl floor sheet is an excellent choice for remodeling your home with a minimal budget but looking for flooring that is durable and long-lasting. Vinyl can typically handle a lot of foot traffic while maintaining its original appearance, so it's a great option for rooms in the spaces that see a lot of activity, like the bedroom, living room, playroom, or kitchen.


Bedroom
Vinyl floor sheet is a great selection for bedrooms, especially in situations where kids or pets make a more durable, stain-resistant floor the preferred option.

Bedrooms are relatively low-traffic rooms, and vinyl is easily kept clean by
Just simply sweeping away the dirt and using a damp mop and a vinyl-friendly floor cleaner when needed.

Vinyl flooring adjusts to weather temperature and generally feels softer than real wood or ceramic tile floors. so it will be comfortable for kids.



Kitchen
Vinyl floor sheet is considered to be a highly durable flooring material, which makes it a great choice for kitchen flooring.
With the proper maintenance care and installation,
vinyl flooring is highly durable and can last for up to 10 years
.
V
inyl flooring for the kitchen is not just durable, but it's resistant to water and stains. These elements alone make vinyl an ideal flooring choice for highly active kitchens that have lots of spills from cooking and leaks from the dishwasher or refrigerator.
Before Installation: Looks old and dirty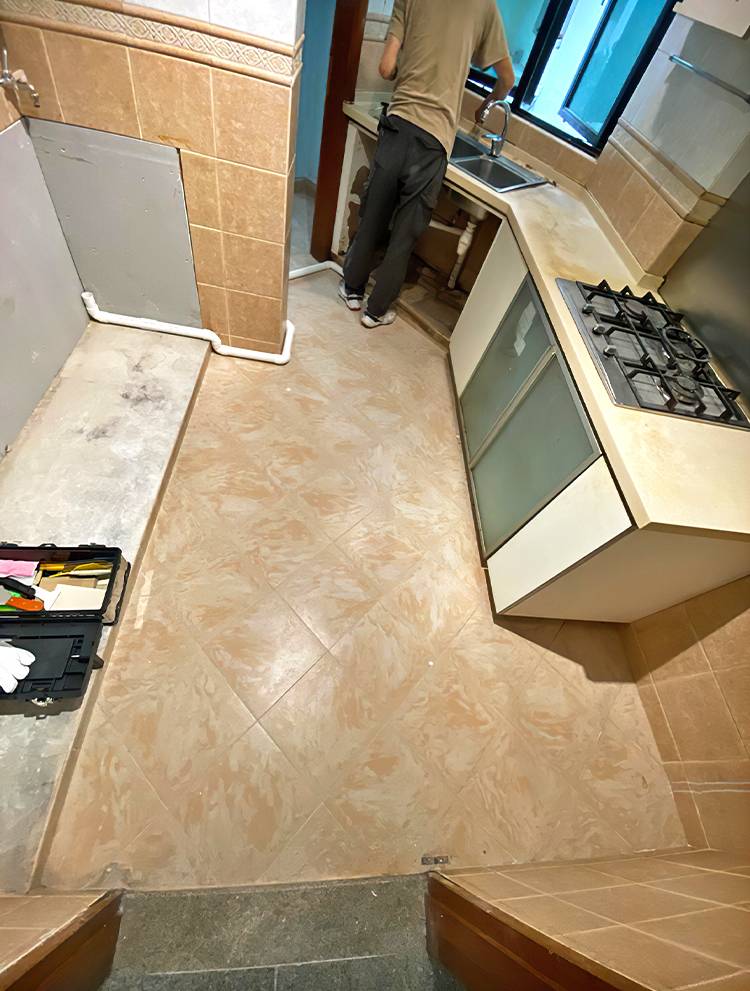 When in the kitchen, we're usually standing on our feet for long periods of time while cooking delicious meals. So, it's ideal to have a soft flooring to make it more comfortable to stand on, which is exactly what vinyl flooring is. Additionally, because of the soft surface, objects are less likely to break when dropped, which is good news for your glasses and mugs.
After Installation: Looks like a brand new kitchen

Bathroom
A vinyl floor sheet

is also a good choice
for bathroom flooring because it offers the perfect mix of practicality, attractiveness, and affordability.
Because it's made with PVC, vinyl has a natural resistance to water and moisture so it will be safe to avoid slipping in the bathroom.


Before Installation:
Looks old and dirty


Vinyl offers better insulation than ceramic tile giving it a warmer feeling underfoot. It's also slightly softer than tile or stone, which is a welcome feeling for bare feet on bathroom floors.
After Installation: Looks clean and neat



Living Room
In terms of finding
a durable, stylish, and affordable
flooring option for your living room, vinyl floor sheet is a good choice for you. Its
durability
ensures that your floors are resistant
to stains and spills
, and easy to clean and maintain, making them
well suited to families
with children or pets.

As you can see, vinyl flooring makes a great choice for the heavily trafficked rooms in your home. With its durability, economical pricing, and simple maintenance, it's a very popular choice for people who wish to improve the look of their home. And with the multitude of design options available, vinyl provides a number of attractive looks and finishes.